Each day, essential workers provide healthcare, put food on our tables, deliver essential supplies, or provide the transportation, childcare, and other services necessary to keep us all safe and healthy during the pandemic. Yet too many workers in these industries do not have the health coverage or financial resources they need to adequately protect themselves, their families, and the Missourians who rely on their services.
Now, more than ever, it is clear that expanding access to Medicaid coverage is critical for Missouri. By increasing eligibility for Medicaid, Missouri can ensure that these workers have access to health care coverage both during the pandemic and moving forward. Medicaid expansion improves health outcomes for low-income workers and would strengthen the health care infrastructure for us all.
Missouri's Frontline Workers:
Where They Work
Over 645,000 Missourians work in six essential industries now engaged in frontline labor. Each day, they are often put in close contact with the public. This leaves these workers, and their families, at high risk for infection.
Health Coverage
Nearly 1 in 9 workers in Missouri's frontline industries do not have health coverage. This is particularly pronounced in the building cleaning services industries, in which over 1 in 4 workers do not have health coverage. These workers often work in low-wage jobs that do not provide health coverage, yet do not qualify for Medicaid given Missouri's restrictive eligibility for working age, non-disabled adults. With an income limit equal to 21% of the federal poverty level, the equivalent of just $385 per month for a family of three, Missouri's Medicaid eligibility for parents is the 3rd most restrictive in the nation. Working age adults without children are ineligible for Medicaid entirely
Poverty
Missouri's frontline workers are disproportionately likely to be living in poverty or near poverty. In many cases, these workers are living paycheck to paycheck, leaving them at risk for serious financial hardship if exposed to COVID-19 – particularly if they are also uninsured.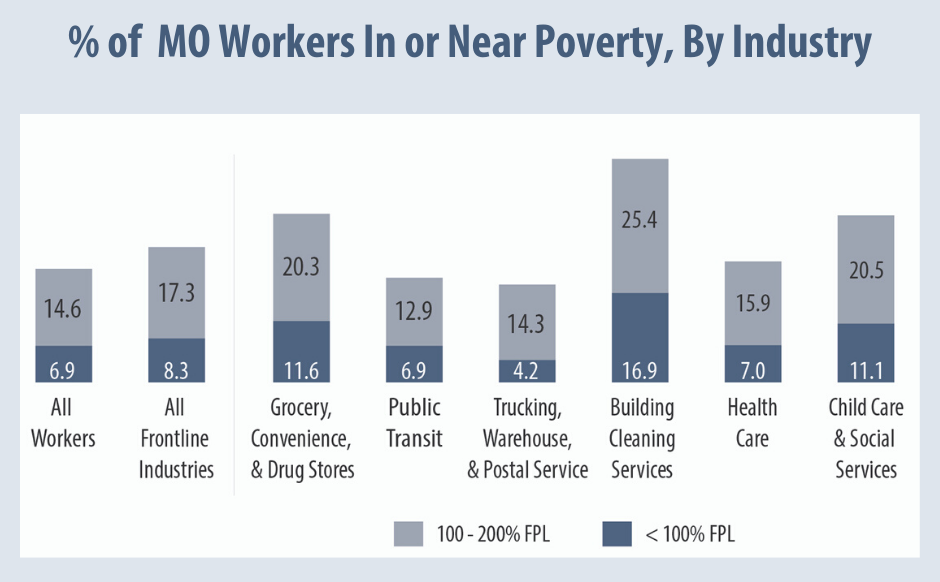 Race/Ethnicity
Given the widespread structural barriers and racial bias that often inhibit the ability of people of color to secure jobs in more solid, higher paying industries, people of color – particularly black, non-Hispanic workers – are disproportionately represented in many frontline industries. The increased exposure is likely a driving factor in the racial disparities evident in COVID infection and deaths.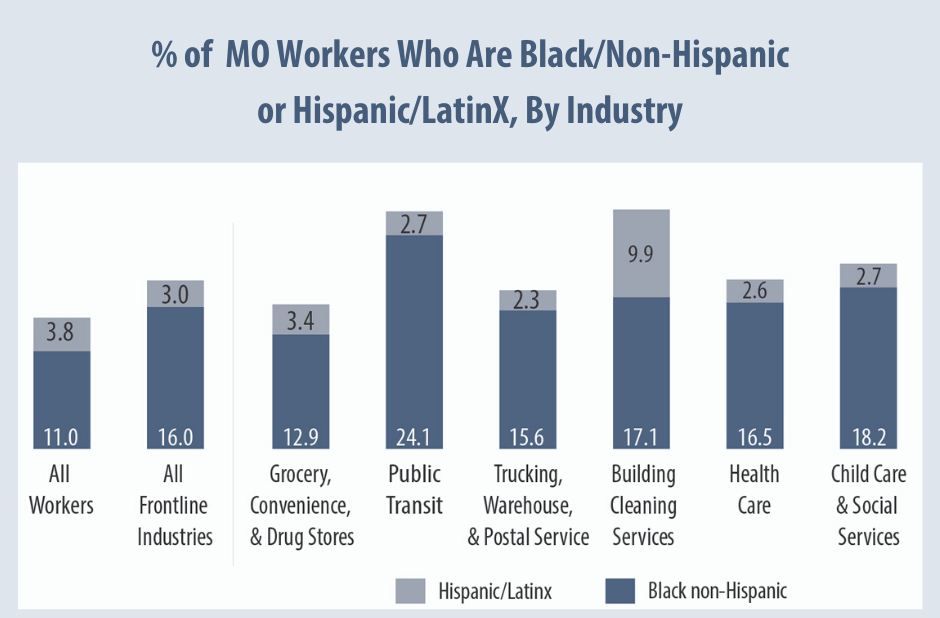 Gender
Nearly two-thirds of frontline workers are women, as compared to fewer than half of workers overall. This is driven in large part by the high share of women working in the health care and child care/social services industries. On the other hand, workers in the public transit and trucking, warehouse, and postal service categories are disproportionately men.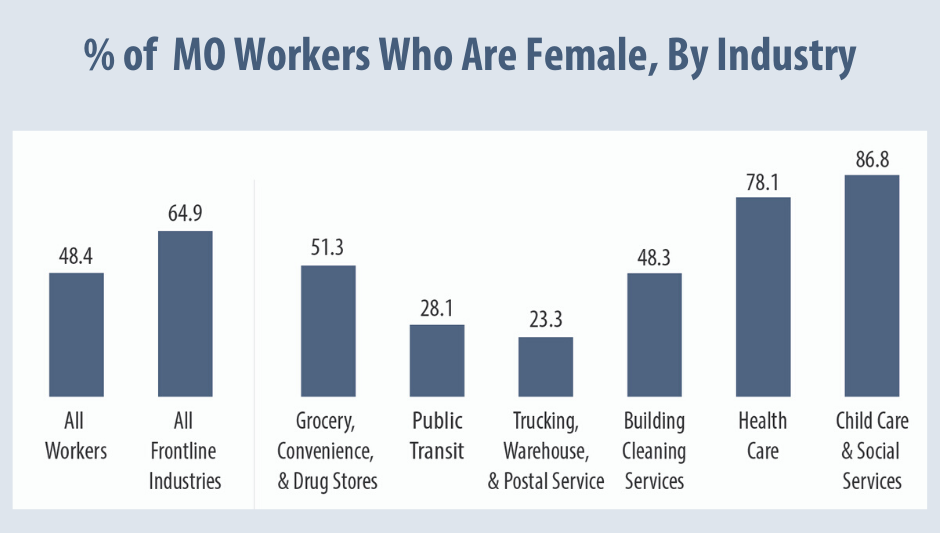 Family Responsibilities
Over 1 in 3 frontline workers has a child living in his or her home, while over 1 in 8 workers lives with a senior.