Updated March 15, 2022
While Missouri's economic recovery is on the right track, many Missourians are still struggling from the economic fallout of the pandemic. Policymakers can help Missouri families get back on their feet by using a portion of the state's federal fiscal recovery funds to provide a targeted sales and property tax rebate. Such a rebate would be easily administered and help nearly 1.2 million Missouri households make ends meet as the economy recovers from the COVID-19 pandemic.
---
Despite an improving economy, many Missourians still face hardships related to the pandemic, which has triggered unprecedented changes in consumer spending patterns and supply chain disruptions. These changes have driven significant inflation in the cost of food, energy, and housing. While evidence suggests that inflation will begin to decelerate by mid-2022 (given a reversion to pre-pandemic spending patterns, combined with planned actions by the Federal Reserve), many Missourians are struggling to make ends meet in the meantime.
---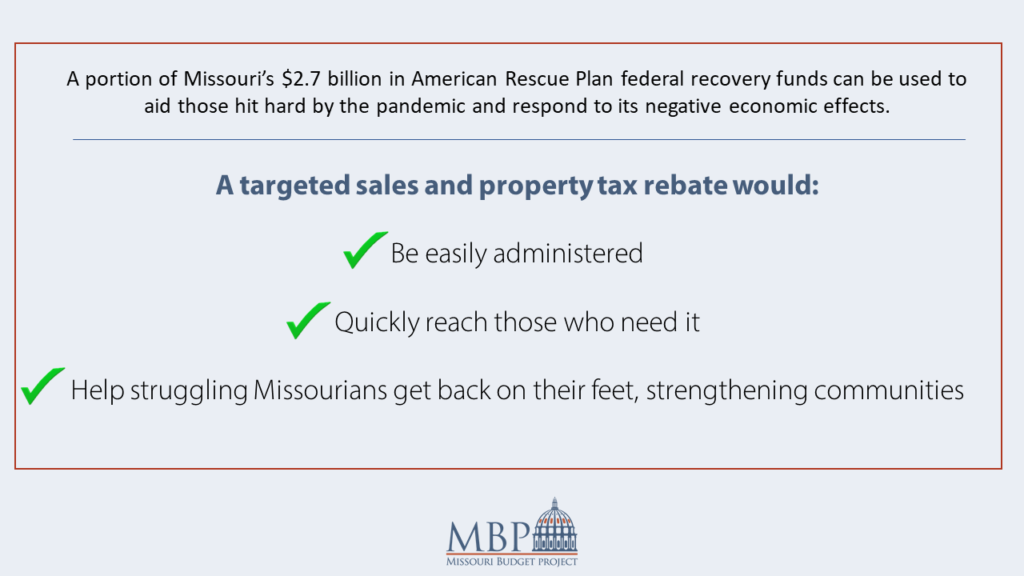 By targeting a rebate to low-and-moderate income households, Missouri can tap into state fiscal relief provided through the American Rescue Plan (ARP).
States can use fiscal relief provided through the ARP to provide cash assistance to families who were impacted by the economic consequences of COVID.
Treasury guidance allows blanket eligibility for cash relief to low-and-moderate income people, defined as those making less than 300% of the federal poverty level (FPL), or $69,090 annually for a family of three.
A rebate would quickly reach nearly 1.2 million Missouri households, from families with young children living from paycheck to paycheck to older adults struggling to remain in homes they have owned or rented for decades.
Such a rebate could be easily administered based on Missouri's existing income tax structure, using a default household size to approximate eligibility and further simplify administration.
As not all Missourians are required to file an income tax return, the state can partner with Volunteer Income Tax Assistance (VITA) and Tax Counseling for the Elderly (TCE) sites to ensure that rebates are distributed to all eligible households.
Funding to VITA & TCE sites to enhance outreach is an eligible use of ARP funds.