By directing a small portion of remaining federal COVID relief funds to Missourians who have exhausted their regular state unemployment benefits, state lawmakers have the opportunity to stimulate local economies and help Missourians struggling to pay their bills – while still maintaining the health of Missouri's unemployment trust fund.
State lawmakers are considering a supplemental appropriations bill to allocate Missouri's remaining federal COVID relief funds, which must be spent by December 31st or returned to the federal treasury. A provision of the spending plan currently moving through the Missouri General Assembly would direct any funds left at the end of the year – currently estimated to be around $400 million – to the state's unemployment trust fund.
However, many Missourians are struggling economically as a result of the economic fallout of COVID. Though the state's unemployment rate has decreased in recent months, the number of jobs available remains well below the number available prior to COVID. In fact, as of August, the state had 137,600 less jobs than it did a year ago (Bureau of Labor Statistics).
The Missouri Department of Labor reports that 82,516 Missourians had exhausted their regular Unemployment Benefits as of September 30th, meaning they have been unemployed for at least 20 weeks. Having already been unemployed for an extended period, they have most likely exhausted all of their savings and are struggling to meet basic living expenses including rent/mortgage, food and utilities.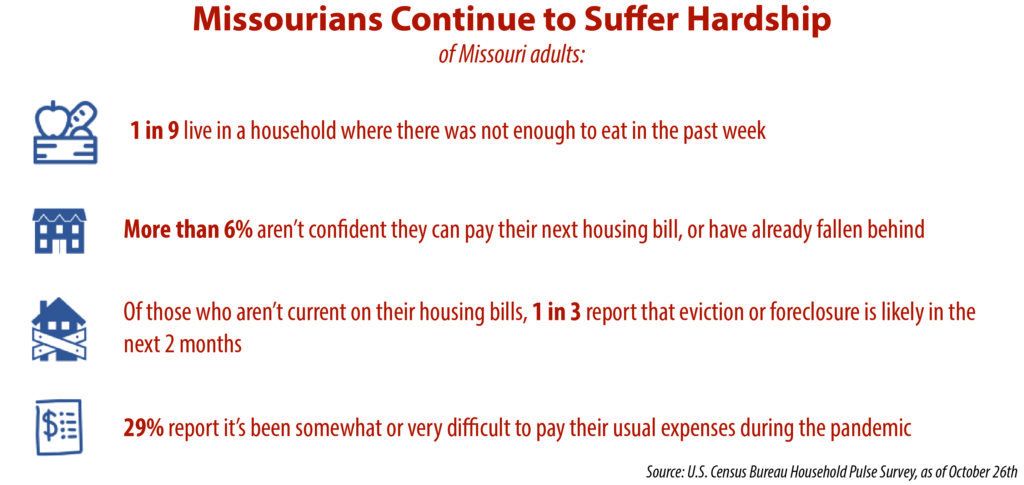 A one-time payment of up to $1,000 to each Missourian who has exhausted their regular unemployment benefits would aid these Missourians and spur local economies – and because the payments would require just a fraction of the remaining COVID funds, lawmakers would still be able to shore up the unemployment trust fund.
The payments described would provide a stimulus effect because Missourians who have already exhausted their benefits likely to spend that money quickly and in their local community to pay for essentials. Research by Mark Zandi, chief economist at Moody's Analytics, indicates that each dollar of payment our state targeted to unemployed Missourians would show a $1.49 return in the local economy.
That is, $82.5 million in stimulus payments would generate an additional $123 million in economic growth.
By utilizing a portion of the remaining COVID funding to provide an economic stimulus payment targeted at the Missourians who have exhausted their regular unemployment benefits, Missouri lawmakers can assist families who are most in need, help stimulate local economies across the state, while maintaining the viability of the unemployment trust fund for future Missourians.