All Missourians want the best for our families. A bright future for our children, security for our seniors, and an economic environment where working hard means you can get ahead.
But this environment doesn't just happen. For our state to be a place where Missouri families, small businesses, and a strong middle-class can thrive, and where everyone has the best possible chance at a brighter tomorrow, we need to invest in Missourians, and invest in the services that provide the foundation for all to succeed.
Unfortunately, especially over the last few years, our state has lost its focus on everyday Missourians. When times were tough, lawmakers chose to cut services that benefit us all, like education and health care, instead of taking the long view and enacting policies that would have strengthened our state.
It's time for us to do better. It's time for us to Invest in Missouri.
By enacting common sense tax and budget policies that level the playing field and close loopholes, we can begin making up for lost ground in early  childhood, K-12, and higher education, and health and mental health services that benefit us all.
Download PDF of Executive Summary
Investments in Missourians Have Suffered
Missouri's ability to make the necessary investment in our state's future has been compromised both by the recent economic recession and decades of policy decisions that often prioritized tax cuts over ensuring we have the resources we need for essentials like education and health care. When the recession hit, state lawmakers chose to cut services rather than enact common sense policies that would help our state recover.
As a result, Missouri still has not fully regained ground lost since the Great Recession of 2008. When adjusted for inflation, the resources our state has to invest in the education and health of our citizens remain below 2008 levels .
Between 1993 and 2013 state lawmakers passed 20 different special interest tax cuts and expanded tax credits that combined cost $1 billion per year. So, although public resources are increasing, and state revenue is recovering from the recession, Missouri's ability to invest in its residents is still near record lows relative to the size of the economy.
We can do better.
Common sense solutions like Medicaid expansion and the streamlined sales tax will not only help us meet the educational and health needs of Missourians, but will make us more competitive in the future.
Investing in a Strong Start



All Missouri children should start school ready to learn so they have the best possible shot at success. Quality early care and education foster the development of cognitive and social skills that are critical to success in school and in life. Public investments in early learning opportunities like home visiting, quality child care, and preschool not only provide children a solid foundation, but pay off for taxpayers in the long run. Unfortunately, Missouri's investments in these services decreased over the last seven years, likely creating gaps in school readiness for a generation of children.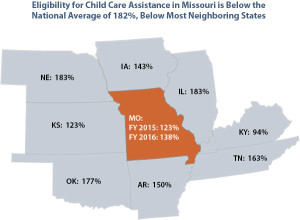 Eligibility for Missouri's child care assistance program has long been lower than most other states, ranking 49th in 2014. Although lawmakers increased eligibility levels for the budget year that began on July 1, 2015, Missouri continues to fall well behind other states including most of our neighbors.
Since 2008, state general revenue funding for child care has fallen by 35 percent and the number of children receiving child care services has also decreased significantly, despite a growing number of children living in poverty.
Since 2009, Missouri's funding for Parents as Teachers has been cut nearly in half, reducing the number of children and families benefiting from the internationally renowned home visiting and parent education program.  The cuts occurred despite research that indicates that children who have participated enter kindergarten ready to learn and score higher on measures of achievement, language ability, social development, persistence in task mastery and other cognitive abilities.
In 2014, Missouri ranked 38th nationally in providing access to preschool for four year olds, and funding per student is less than half the national average.
Read more about early childhood investments
Investing in Our Students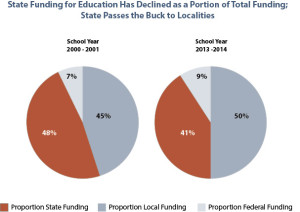 Missourians want to give our children the best possible chance at success, with access to quality public schools that start them off right towards pursuing their dreams. Unfortunately, the state of Missouri is failing to meet its obligation to more than 820,000 K-12 students by shortchanging school funding. As a result, the burden for ensuring school funding is increasingly shifting to localities, setting the stage for enhanced funding disparities between school districts.
The state of Missouri is currently underfunding our local schools to the tune of $400 million.
When adjusted for inflation, state funding for local schools was $361 million lower in the 2013-2014 school year than it was in 2000-2001 – the equivalent of $554 less per student.
Local governments have tried to make up the difference, resulting in property tax rate increases in 92% of counties in Missouri. Rates have risen by an average of 11.5% since 2001.
But not every local government can or will make up for the state's lack of funding. In one of four Missouri counties, total funding per student has failed to keep pace with the increased cost of providing education since 2000.
In the 2013-2014 school year, total funding per student already varied significantly with St. Louis County averaging 75% more in total funding per student compared to St. Francois County.
Read more about K-12 investments
Investing in a Skilled Workforce
A well-educated workforce helps attract businesses. But too many Missourians still can't get the education and training needed for a good-paying job.
Those with at least a college degree have higher incomes and are less likely to face unemployment. But instead of investing in the education of our citizenry, Missouri has chosen to cut funding for both two- and four-year colleges. Tuition has soared, making it hard for working families to afford a college education while trying to make ends meet.
Since state budget year 2009, Missouri's funding for public four-year higher education has actually dropped. Had state funding for higher education simply kept pace with inflation, Missouri's four-year colleges would have received $100 million more in the current year.
Since 2009, as Missouri's state funding for higher education declined, tuition and fees for Missouri's public four-year higher education institutions have risen by 14.66 percent on average, increasing from $6,803 to $7,800.
Tuition for Missouri's public community colleges increased by more than 26 percent over that same period.
Not surprisingly, over the same timeframe, debt for Missouri students has also increased, rising by 22.9 percent between 2008 and 2013.
Read more about higher ed investments
Investing in Healthy Families
A healthy Missouri means all Missouri families can get the health care they need. That sickness or chronic illnesses are caught early, rather than waiting for an emergency to hit. That employees can stay healthy for work, and not spread illnesses unknowingly. That a strong public health network detects problems early, keeping us all safe and well.
A healthy Missouri is a fundamental building block of a prosperous economy and a good quality of life. Yet, Missouri's investments in critical health care services have significantly declined over the last decade, compromising the health of Missouri families.
Missouri can do better by investing in its greatest resource – its people.
In 1990, Missouri was ranked as the 24th healthiest state, but by 2014 Missouri dropped to 36th in the nation.
An estimated 632,000 Missourians – 1 in 9 Missourians – are uninsured, including 90,800 children. Yet Missouri's eligibility limits for medical assistance for low-income parents is among the lowest in the nation.
1 in 10 Missouri adults have a serious mental illness and 40 percent of those go without treatment. Yet Missouri cut state general revenue funding for mental health services by as much as 35 percent since 2009.
Missouri spends less on public health than all but one state, investing a mere $6.08 per capita, compared to the national average of $27 per capita. State funding for local public health agencies has been cut by two-thirds since 2009.
Read more about health investments
Policy Recommendations for a Brighter Future
By enacting just two measures, Missouri's lawmakers could dramatically strengthen state services and lay the foundation for a more prosperous Missouri in 2016.
EXPAND MEDICAID ELIGIBILITY:
IMPROVE THE HEALTH OF MISSOURIANS AND SAVE TAXPAYER MONEY
As of July 2015, 31 states and the District of Columbia have adopted the Medicaid Expansion, including several of Missouri's neighbors: Arkansas, Illinois, Iowa and Kentucky. In addition to expanding health care coverage to their residents, these states are also experiencing significant cost savings in their state budgets. Through Medicaid expansion, the states have been able to use federal funding to replace existing state-funded health care services for the uninsured, resulting in those savings.
Similarly, Missouri would save significant state revenue if we expand Medicaid. By moving people from existing state-funded services into the federally-funded Medicaid expansion, Missouri could net savings of at least $100 million per year in state general revenue dollars when the expansion is fully implemented. That amount is net of new state general revenue costs for the expanded coverage. These are real dollars that would be saved in the state's budget and which could be used to increase funding for education or other services.
ENACT THE STREAMLINED SALES TAX:




STRENGTHEN STATE SERVICES AND LEVEL THE PLAYING FIELD FOR MISSOURI RETAILERS
Missouri tax laws have failed to keep pace with a changing economy, resulting in reduced revenue available for health, education, and other public services, and giving online retailers a competitive advantage over local business.
Missouri and other states that rely on sales taxes to fund services have been losing revenue due to failure to capture sales taxes that are owed for online retail purchases. A University of Missouri study estimated that Missouri missed out on $358.3 million in state and local sales tax revenue in 2014.
In response, 24 states, including most of Missouri's neighbor states, have enacted what's known as the Streamlined Sales Tax collections mechanism. This measure allows the states to simplify their sales tax laws to make it easier for online retailers to collect and remit state and local sales tax.
Missouri could expect to capture between $15-$20 million in currently uncollected sales taxes in the first full year of implementation. The U.S. Congress is considering companion legislation that would require retailers to fully comply with state legislation, allowing the state to invest hundreds of millions more each year in the education and health of Missourians.