In Missouri, working families with low wages generally pay a higher share of their income in state and local taxes than do the highest earners. Improving the state's working families tax credit would make Missouri's tax structure more fair, further incentivize work, and provide multiple long term benefits for children throughout the state.
Proportionately, Low Wage Families Contribute the Most to State Budget & Services
• Even when working families earn too little money to owe income taxes, they support the state services we all rely on, like education, social services, and roads and bridges through sales and property taxes.
• According to the most recent analysis, Missouri families in the bottom quintile of income pay 9.9% of their income in state and local taxes, compared to just 6.2% for the wealthiest 1% of families.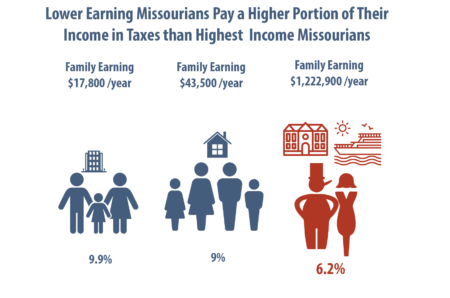 Strengthening the Working Families Tax Credit
To help working families make ends meet, Missouri lawmakers approved a Working Families Credit, which will be implemented for the 2023 tax year. Although Missouri's credit is tied directly to the federal Earned Income Tax Credit (EITC), unlike the federal credit and most other state EITCs, it is non-refundable.
The federal and other state credits are refundable (meaning that families can receive the full credit, regardless of the amount they pay in income taxes) in recognition of the fact that working families contribute a significant share of their income toward taxes, though they may not be paid through the income tax system.

As a result of this structure, families who earn too little to pay income taxes receive no credit at all – and the credit does not offset the considerable increases in sales taxes those families are facing due to inflation in costs for everyday items that are subject to that tax, like diapers, food, and other basics.
An estimated 250,000 Missouri families will be eligible for Missouri's current credit. A refundable credit would reach an estimated 492,430 working families and maximize the credit's impact for families and children across the state.
Eligibility for the credit is based on family size and income.
Currently, a family with three children is eligible with an income up to $56,838 for a single parent and $63,698 for a married couple filing jointly.
As incomes increase, the credit phases out.
---
Earned Income Tax Credits Benefit Kids & Communities Well Into the Future
Research has documented that while most families receive the similar federal Earned Income Tax Credit (EITC) only temporarily, it has profound long-term benefits for families and communities.
Children whose families receive the federal EITC are healthier, perform better and go farther in school, and enjoy greater earnings as adults – establishing a more productive and skilled workforce for Missouri's future.
Refundable state credits build on that success and contribute to improved child welfare. In fact, states with refundable credits have seen marked reductions in the rates of child maltreatment and reduced foster care entries compared to states without an EITC.
---
Impact of Making the Missouri Working Families Credit Refundable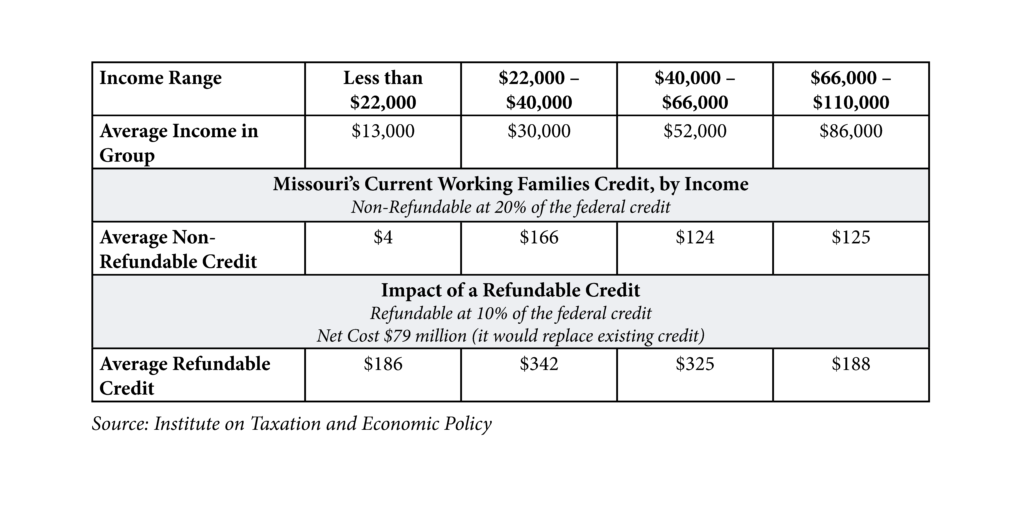 Making the Missouri Working Families Credit fully refundable would have profound impacts for families in every community across Missouri.
---
The following map shows the percent of households eligible for the federal Earned Income Tax Credit by County and by Missouri State Senate and State House districts.